When we look to 2017, there are a lot of stock markets (equities) that have strong performance with considerable growth. Nevertheless, nothing can match the massive appreciation in almost any type of crypto, especially for coins in the top 10 based on their total market valuations. The stock market that had the best performance last year (excluding Venezuela with an abnormal 3.884% increase due to rampant inflation) was Zimbabwe with an increase of 117.7%. While the highest growth is almost unimaginable achieved by crypto Ripple (XRP). Although Ripple (XRP) only ends at $ 0.0065 at the end of 2016, but on December 31, 2017, we can see that Ripple (XRP) is trading at around $ 2.25. By the end of 2017, Ripple (XRP) has even surpassed Ethereum (ETH) as its second crypt with the largest total market capitalization; each XRP $ 77.1 billion and ETH $ 72.9 billion. Although still lagging behind Bitcoin's market capitalization of $ 248.3 billion, XRP and ETH deserve appreciation for being able to gain significant market capitalization briefly.
Ripple market capitalization (XRP) rose by 31.637% from a year ago, while Ethereum (ETH) increased by approximately 1,300%. Bitcoin (BTC) is only able to book 447% market valuation increase over the past 12 months. So it can be clearly concluded that the title of Cryptographic King during 2017 is carried by Ripple (XRP). Here's a complete description of the comparison of crypto and stock market performance in 2017.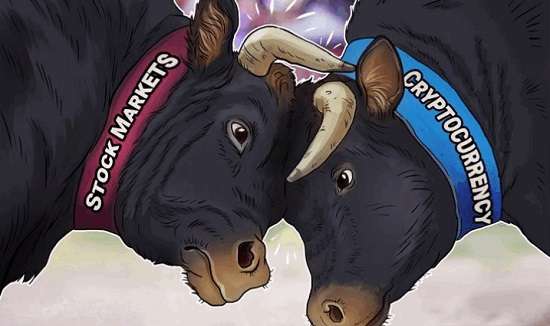 Highest Market Share Performance 2017
As can be seen from the table below, the relatively high return rate comes from the stock market in less developed or developing countries. For example Argentina with an increase rate of 77.7%, Mongolia with a 68.9% increase, and Kazakhstan up 59.3%.
For some investors, there are barriers to accessing these stock markets. This is also a strong reason why global investors prefer the crypto market, because it is global, accessible and traded 24 hours a day, seven days a week, non-stop.
Equity Market 2017
In the main stock market, Hong Kong's Hang Seng Index leads with a 36% return, followed by BSE Sensex 30%, and India up 27.9%. The Hang Seng ended at 29,919.15 as of December 2017, close to its highest level this year, and the second-highest closing price after a peak of November 2007 at 31,958.41.
Since 2009, the Hang Seng has grown and recorded always on the Major Trend with an upward trend. The index is currently testing retest at resistance levels around its highest level in 2007, and is only about 6% of current levels. It is interesting to note that the Hang Seng has only one month of decline during 2017, as well as a testament to the market participants' interest in the future of the Hang Seng. India's Sensex 30 BSE Index ended nearly 10% lower than the Hang Seng at the end of 2017, but a strong growth remained. Sensex had its highest point last year at 34.057, very close to its highest level at 34,127.22. December triggered an upward signal for the monthly bullish trend, following the bullish trend during May. If assessed globally, the Sensex movement is still very healthy with the support of continuing bullish trend. Moreover, if the Sensex continues its movement by creating new monthly and higher monthly highs, further increases are still possible.
The index of major stock markets that had the third best performance last year was the S & P 500 (SPX), with an increase of 19.4% to 2,674. SPX has also reached its highest level this year at 2,694.97. Previous Rally SPX (monthly), starting in October 2011 has recorded an increase of 99%, before entering a period of prolonged consolidation. So far, SPX still shows a bigger potential rise.
Stock Market Performance Basic Position 2017
Of course, not all stock markets had a bullish move last year. However, stocks with the worst performance are relatively smaller exchanges. The lowest-performing stock market for the year 2017 was the Sarajevo Securities Exchange, down 18.5% to 562. The worst position was subsequently experienced by the Qatar Exchange Index, with a fall of 18.3%; followed by the Karachi Index, which declined by 15.3%. Qatar was negatively affected by the economic blockade since June 2017 spearheaded by Saudi Arabia with support from a number of other Middle Eastern countries
Crypto Market Excellence 2017 The graph below shows the performance of the five most popular cryptoes, including Bitcoin (BTC / USD). Some of the crypts shown are not comprehensive and are selected as samples, due to their popularity according to Coinmarketcap (according to Total Values ​​Market).
Almost the top-ranked crypto currency in Coinmarketcap has increased dramatically with super-fast acceleration from around early November 2017, excluding Ripple (XRP / USD). Ripple (XRP) is a bit late in achieving its acceleration but is able to prove itself by the end of 2017, replacing Ethereum (ETH) in second place. In fact, in the last week of 2017, Ripple proved itself to be the only crypto that could sustain its rise as almost all other crypto currencies declined sharply.
Ripple (XRP) grew by 700% in December 2017. Ripple tokens are used to facilitate global payments by banks and other financial institutions, so the adoption of Ripple (XRP) is believed to lead to Safe Haven rather than just speculative media. Dash (DASH / USD) follows Ripple (XRP) position by posting at least 9,400% in the last year. Dash (DASH) for the last 10 months (since the breakout) has risen by 10,584% at recent highs at $ 1,595.76. So far, since reaching the all-time high, the Dash (DASH) has been pulling back; down by 51% before rebounding.
Then Ethereum (ETH / USD) became the 3rd best performer over the past year, rising about 9,000% to $ 757 on December 31, 2017. By the time it began entering 2017, ETH was able to rise by 5,000% in the first 5 months, entering the consolidation phase for 4 months. In fourth place comes Litecoin (LTC / USD) with the nickname as "Bitcoin is more perfect" because it does not experience any scalability problems. LTC / USD able to book up 5.582% increase during the year 2017. Then in the fifth position there is Monero (XMR / USD) is able to record an increase of 2.481%. By the end of 2016, XMR ended at $ 5.90 and rocketed at least to its highest level of $ 348.02 over the past 12 months. The sixth and seventh positions are occupied by IOTA and Bitcoin Cash (BCH) with each increase of 1.356% and 739%. Both are able to get into the best range of crypto, although newly created in 2017.